The 2+2 Engineering Program is a joint program offered by NC State and UNC Asheville. This program allows students to complete the first one or two years of an engineering curriculum at UNC Asheville, apply to transfer to NC State University and finish their education in two or three more years at NCSU College of Engineering (COE) in Raleigh.
Mission and History 
The mission of the 2+2 Transfer Program is to provide freshman and sophomore engineering education in Western North Carolina at UNCA Asheville, and to assist in the transfer of students to NC State to complete their engineering degree.
The 2+2 Program was established in 1982 with a letter of agreement between UNC Asheville and the then NC State University School of Engineering.  For many years, UNC Asheville was the largest and strongest source of transfers to the College of Engineering.  Since 1982, over 420 students have transferred and graduated with engineering degrees.  Many return to Western North Carolina to work and contribute the local economy.
Plans of Work – Degree Options
The program includes the following degree programs:
The following curricula are also supported, but must be completed on a 1 + 3 year schedule:
Regardless of curriculum preference, all students in the 2+2 Program take the same courses during the first semester of their freshman year. This is the same curriculum as the mechatronics students take for the first semester. 
Plans of study change to suit each major in the second semester of the freshman year.
Benefits of the 2+2 Engineering Program
Advantages of the UNC Asheville 2+2
The 2+2 Program allows students to begin their engineering education in the small, public liberal arts environment of UNC Asheville. Class size is small and direct interaction with instructors is routine.
UNC Asheville is an institution focused on the education of undergraduates, unlike most large schools. All instruction is live, with assistance from faculty coordinators or student facilitators.
Numerous support mechanisms exist and are readily accessible to students. These include academic advising, the Math Lab, Writing Center, Counseling Center, and various tutoring opportunities.
Many students at UNC Asheville are from Western North Carolina. Attending UNC Asheville allows the student to remain at home, or close to home, while going to college. Ties to familiar support systems of family, friends, etc. are easy to maintain.
UNC Asheville provides strong preparation in math, science, English composition, humanities, and social science. These subjects make up the majority of the early engineering curriculum. The student is in the proper location at the proper time in the curriculum to exploit these strengths of UNC Asheville.
The track record of the 2+2 Program is very strong. Since 1983, approximately 420 students have transferred from UNC Asheville to NC State College of Engineering. UNC Asheville has been one of the largest and strongest sources of engineering transfer students for many years. Students are well prepared at UNC Asheville for the rigors of NC State Engineering.
Advantages of the 2+2 Program
After one or two years in the engineering curriculum, the 2+2 student applies to transfer to the NC State College of Engineering. When accepted, the student matriculates directly into a specific engineering department at NC State University.
NC State is a large university bustling with undergraduate and graduate education as well as research. Campus activities, student engineering societies, career development assistance, and interaction with more advanced students provide upper class engineering students with valuable experiences and access to information and opportunities.
The 2+2 student enters this environment as a more mature and advanced student. Large laboratories, equipment, research, a diverse faculty, and an expansive course offering are used more thoroughly at this stage of the curriculum.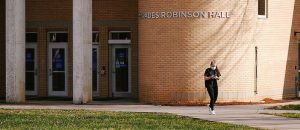 How to Enter the 2+2 Engineering Program at UNC Asheville
2+2 students begin at UNC Asheville with normal UNC Asheville student status. There is no special admission process to the 2+2 Program at UNC Asheville. Simply apply to UNC Asheville. However, it is important that the student state their interest in engineering as early as possible. The ideal place to state this interest is on the UNC Asheville admission application, but the student can indicate the interest during EmBark orientation or registration as well. This will result in the appropriate assignment of academic advisor and enrollment in the correct engineering classes.
Engineering students follow the curriculum requirements of a generalized NC State University engineering curriculum beginning in the first semester, freshman year. As career decisions solidify in the second semester, the course of study is tailored to the curriculum of choice. The first semester classes are consistent across mechatronics and all 2+2 majors. Course variations begin in the second semester.
Visit the UNC Asheville Admissions website for more information.
Requirements for Transfer to NCSU College of Engineering
Ideally, students working toward an engineering degree should transfer after they have completed their first or second year, depending on the chosen major. However, a student is eligible to transfer at any time after the CODA requirements, listed below, are satisfied. As a result, some plans of work are 2+2 and others are 1+3. With the guidance of the Associate Director, students submit a transfer application through WolfPAW to NC State University. Transfer admission standards vary with each degree program according to the space available and the number of applicants, but a minimum grade point average of 3.0 is required to ensure consideration for admission into an NC State engineering program. To be a competitive transfer applicant, students should have a UNC Asheville cumulative GPA of 3.5 to 3.7 as a minimum.
In order to transfer into an engineering curriculum at NC State University, students must have completed at least 30 credits hours, including the CODA requirements, all with a grade of C or better:
College Chemistry with Lab (4 credit hrs)
Calculus 1 and Calculus 2 (8 credit hrs total)
Calculus-based Physics with Lab (4 credit hrs)
English Composition (4 credit hrs)
In addition to the requirements on the cumulative GPA, the GPA between the last two math classes at the Calculus I level or higher must be at least 2.5. If NC State University courses are taken, the overall NC State University GPA must be at least 2.0.  Note:  AP credits do not count toward the 30 credit total.
Applicants not meeting the 30 credit hour requirement will be asked to provide their high school transcript.
NC State College of Engineering accepts transfer applications primarily for Fall entrance.  The deadline to apply for transfer to a fall semester in a given year is February 15 of that same year.
See the Joint Program Associate Director for further details about the application process.

Engineering Courses at UNC Asheville
The required engineering courses are available at UNC Asheville via live interactive distance education technology from NC State or are taught locally. Once accepted, it is recommended that successful 2+2 candidates discuss their NCSU schedule with their NCSU advisor, as summer classes may be recommended.
Courses at Other Institutions
Many courses at other institutions are equivalent to those in the engineering curricula of NC State, but students are advised to contact the Joint Program Associate Director  before enrolling at another institution to confirm transferability of specific courses.
AP Credit Acceptance
The acceptance of AP credit scores differs in some respects between NC State and UNC Asheville.  Transfer applicants to NC State should compare accepted AP credit from both schools. AP Credit does not count in the required 30 credits for transfer to NC State.  Applicants not meeting the 30 credit hour requirement will be asked to provide their high school transcript.

Cooperative Education
NC State University's College of Engineering has an active co-op program, making it possible for 2+2 students to alternate on-the-job experience with classroom learning and graduate with a co-op certificate after 12 months of work in a structured situation. Students are not eligible for the co-op program until they are admitted to to one of NC State University's Raleigh-based engineering degree programs.